Creative Ireland South Dublin
Incubation Award 2021 is seeking proposals!
Creative Ireland South Dublin seeks to support emerging ensembles/collectives and individual young creative practitioners, in any discipline to develop their practice and promote their presence as a creative voice in South Dublin County. This award is open to Creative Practitioners under 25 and living/residing in South Dublin County Council Administrative Area. The amount of the award is €5000. Priority will be given to projects completed in 2021. Deadline for proposals is Friday 16th July at 4:00pm. To apply, please click https://submit.link/gT.  Applications are only accepted through SDCC Submit.com.
If you have any queries, please contact Carla Fazio, Creative Ireland South Dublin Programme Manager at cfazioarts@gmail.com.
Advancing Creative Communities in South Dublin County
September 2018 saw the launch of South Dublin County's five year Cultural and Creativity under the Creative Ireland programme. It highlights the potential for: Creative Communities; Sustaining Creativity; Re-imagining Place; Cultural Hubs, Creative Citizens and creative networks and Partnerships.
https://creative.ireland.ie/en/creative-communities/south-dublin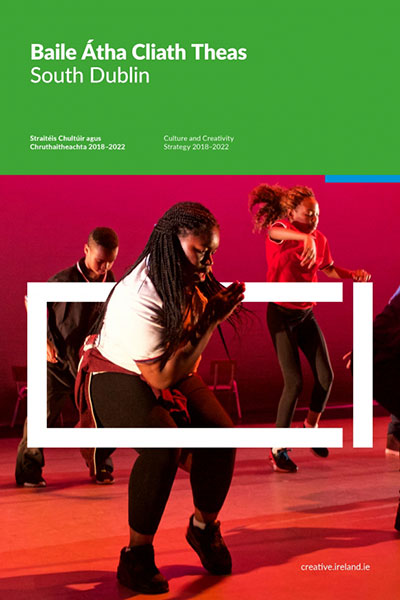 Individual Artists and Creatives Award 2021
Creative Ireland South Dublin seeks to support artists and creatives with a collaborative practice.
In 2019, the Creative Ireland National Programme began looking at how the cultural and creative sectors could play a greater role in public engagement on climate change. Dublin's climate is changing, and this poses significant risks and challenges to all of those living in the region. In response to this, South Dublin County Council produced the Climate Change Action Plan 2019-2024 in association with Codema (Dublin's Energy Agency) and the Dublin Metropolitan Climate Action Regional Office (CARO).
The Creative Ireland South Dublin programme wants to support these initiatives through this award.
The successful proposal will have a developmental aspect for the artist's creative practice, a community collaborative element to it, and be an innovative project where the culture and creative sectors engage the public on action around climate change. The project will engage with one of the cultural/creative/heritage venues or organisations in the county. Priority will be given to projects completed in 2021. 
Applications are due Tuesday 27th July at 4:00pm.
To apply, please visit https://submit.link/hU