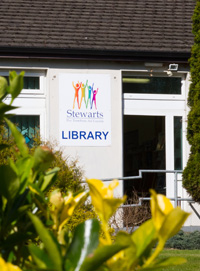 Contact 
The John Jennings Library,
Stewarts Hospital,
Mill Lane,
Palmerstown, 
Dublin D20 X318
Tel: +353 1 6264444 (extn. 1129)
Fax: +353 1 6261707

Librarian: Emma Boughton
Library email: library@stewartscare.ie
Information on the library on the Stewarts Care Ltd Website
Opening Hours 
Monday        10am to 12noon, 1pm to 3pm
Wednesday   10am to 12noon, 1pm to 3pm
Friday            10am to 12noon, 1pm to 3pm

Closed every day for lunch from 12.30pm to 1pm.
Directions
The  Library can be reached using the 18 bus from Sandymount Green to Palmerstown via the Old Lucan Road. Please note that there is a considerable walk from the bus stop to the library. For routes, timetables and fares information, see the Dublin Bus website.
Facilities
The John Jennings Library is situated in the grounds of Stewarts Care Ltd, Palmerstown. It is a small library that houses a specialised collection of books and journals on learning and intellectual difficulties. A wider public service is also offered to the community that includes free Internet access and WiFi.

The staff are experienced in the area of intellectual disability. People with intellectual or physical disabilities and their carers are particularly welcome. 

The Library is a private/public partnership between South Dublin Libraries and Stewarts Care Ltd. It operates in partnership with South Dublin Libraries, and offers a part-time service to the Palmerstown area.