Directions to SDCC Head Office, Tallaght Office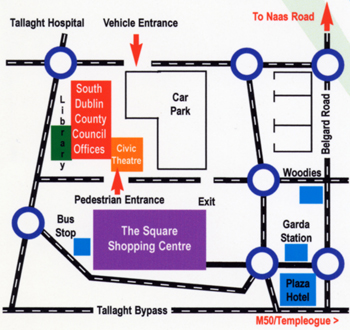 Directions to our Civic Centre, Clondalkin.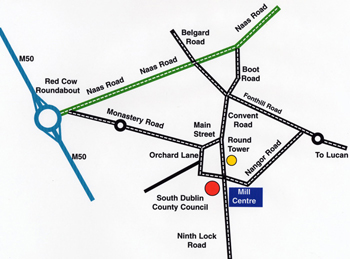 By Car via the M50
Travel South on the M50 and exit at the Tallaght roundabout. Follow the signs for Tallaght. You are now travelling on the N81. Continue on this road for approximately 5km through the roundabouts and traffic lights. The landmarks that you pass include (on right) the Plaza Hotel and the Square Shopping Centre (on left a public park). The right hand turn for South Dublin County Council is shortly after you pass these landmarks. (Follow the signs for the Hospital). Take the second turn on your right and go straight through the roundabout. You will then see the entrance to South Dublin County Council on your right.
Parking is on a first come first served basis and staff members receive priority.
There are seven accessible parking spaces for disabled drivers/passengers available on site.
By Bus
The following buses will drop you outside South Dublin County Council – 49, 49A, 50, 54A, 65, 65B, 65C, 77, 77A. All these buses leave from Eden Quay in the City Centre near O'Connell Street.
The 75 runs from Dun Laoghaire
The 76 runs from Ballyfermot
The 76A runs from Blanchardstown
The 201 and 202 are local Tallaght buses.
For details of pick up points along any of these routes contact the Dublin Bus Ringsend Depot (01-7034533) or alternatively you can contact Dublin Bus Passenger Information Service on 01-8734222 or their website www.dublinbus.ie
For Dublin Bus accessibility information for disabled passengers visit: http://www.dublinbus.ie/en/Your-Journey1/Accessibility/
Please ask the driver of the bus to let you know when you are approaching South Dublin County Council.
By Taxi
A taxi from the centre of Dublin to South Dublin County Council will cost approximately €35. This amount is not exact and is only given as an indication of the approximate cost for someone who is considering this option.
By Luas
Take the Red Line from Connolly Station, via Jervis Street and Heuston Station to The Square, Tallaght.
The Loc8 code for County Hall, Tallaght is NR4-51-L03 (http://www.myloc8ion.com/index.php/maps/conf_page5/?f=648&b=1386495893&g=3&e=2&p=NR4-51-L03)
In Latitude & Longitude: 53°17'22'' N, 6°22'20'' W or in decimal degrees: +53.28964, -6.37238
The Loc8 code for Civic Centre, Clondalkin is NS5-91-39D (http://www.myloc8ion.com/index.php/maps/conf_page5/?f=658&b=1154605653&g=3&e=2&p=NS5-91-39D)
In Latitude & Longitude: 53°19'24'' N, 6°23'41'' W or in decimal degrees: +53.32360, -6.39495