Ballymount Civic Amenity, Ballymount Avenue, Greenhills, Dublin 20
General Operating Conditions
The South Dublin County Council Civic Amenity at Ballymount facilitates the disposal of domestic waste where the householder does not avail of a door-to-door collection service.   The Civic Amenity is operated by Starrus Eco Holdings Limited on behalf of the Council.
Credit card, debit card and cash payments are accepted at Ballymount Civic Amenity. 
Children must always remain in the vehicle.
We would ask those who may require assistance in depositing waste to please inform the staff at the entrance so a staff member can be assigned to assist in depositing any material brought to the amenity.
Notice - No Abuse. The staff at this site have the right to work in a safe and supportive environment. In the interest of safety, South Dublin will not tolerate verbal abuse, threatening behavior or physical violence under the Equal Status Acts 2000-2018.
Offenders will be asked to leave.
The Operator has the right to refuse entry to any persons who act in this manner and may be reported to the Council.
Waste is defined in the Waste Management Act 1996, as amended, and in the EU Waste Framework Directive 2008/98, as any substance or object which the holder discards or intends or is required to discard.

Opening Hours
Monday – Friday                    9:00am to 5:00pm
Saturday                                9:00am to 5:30pm
Sunday and Bank Holidays   9:30am to 5:00pm
*Christmas Eve                      9:00am to 3:00pm
*New Year's Eve                   9:00am to 3:00pm
Closed
Christmas Day
St. Stephen's Day
New Year's Day
Contact Details
Ballymount Civic Amenity,
Ballymount Avenue,
Greenhills
Dublin 20.
Tel: 01-4621251
Email: info@sdublincoco.ie
Web: www.sdcc.ie
Plan Your Trip
Ballymount Civic Amenity operates a one-way system. Members of the public should for their own convenience, pack waste into their vehicles, segregated by material type, and loaded in the order of the drop off points.  See the Site Layout Plan for the order of the drop-off points.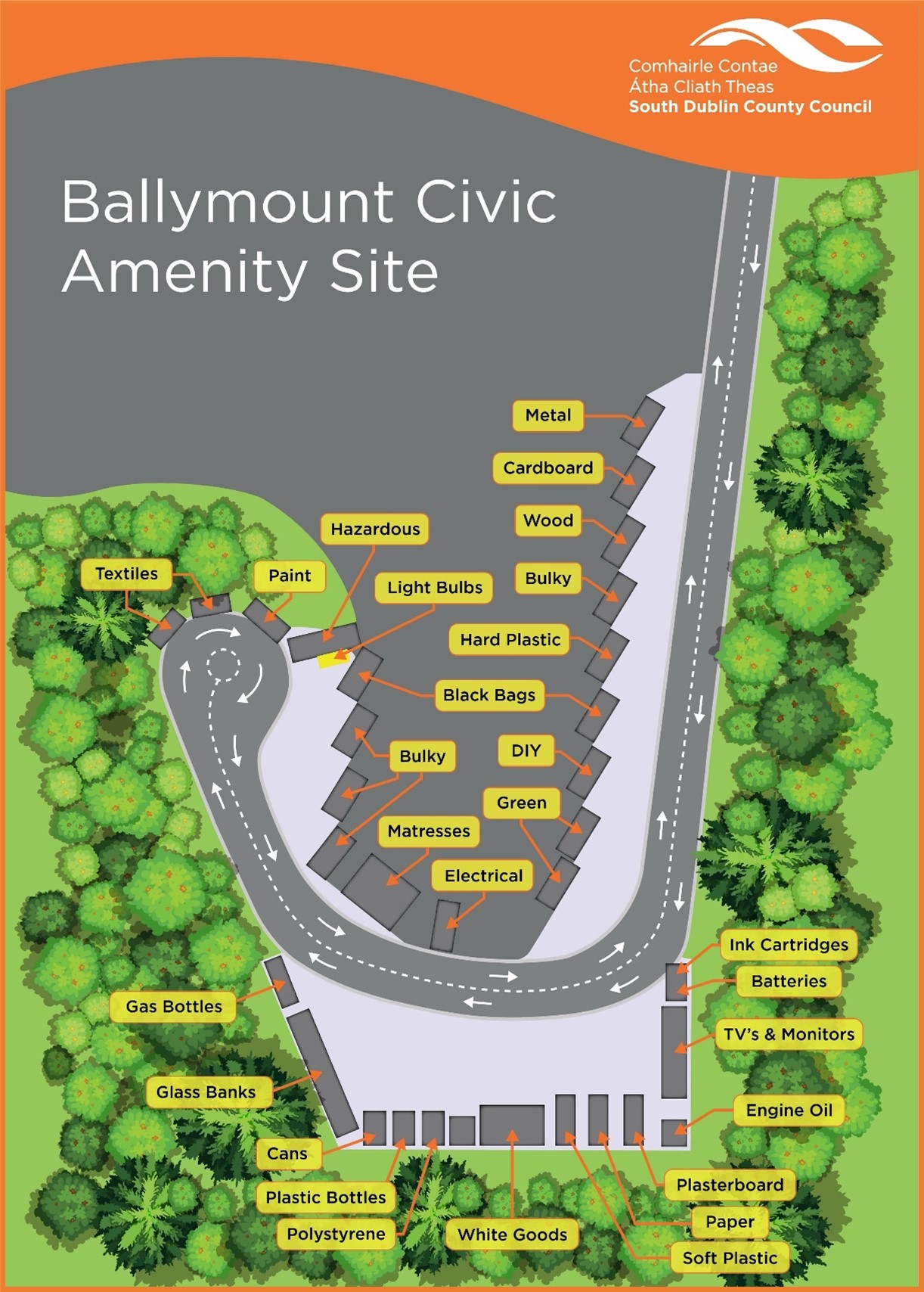 Materials Accepted free of Charge.
| | |
| --- | --- |
| YES | NO |
| Cardboard - All cardboard package |   |
| Waste Oil |   |
| Paper- Newspaper, junk mail, magazines, books, white paper |   |
| Glass Bottles and Jars | Pyrex, crockery, drinking glasses |
| Aluminum Beverage Cans |   |
| Plastic Bottles | Water butts, composters, plastic oil tanks |
| Plastic Bags (with recyclable symbol) |   |
| Textiles/Clothing | Cushions, carpets, soiled clothing, duvets, pillows |
| Ink Cartridges (Domestic printer cartridges) | Commercial cartridges, large format reel cartridges |
| Batteries (car batteries, mobile phone batteries, household batteries) | Industrial batteries |
| Fridges/Freezers | Commercial |
| Electrical Appliances | Nondomestic electrical appliances |
| Computer Equipment |   |
| White Goods (Washing Machines, cookers, microwaves, fridge freezers) |   |
| Fluorescent tubes |   |
| Light bulbs |   |
| Calor Gas bottles (domestic type only) |   |
| Polystyrene |   |
Materials Accepted with a Charge
Type

Example

Scrap Metal

Bikes, metal furniture,

Timber

Garden timber, hardwood flooring, doors, softwood

Green Garden Waste

Grass, hedge cuttings, leaves

General Household Waste

Domestic refuse, small household items that would fit in a wheelie bin.

Bulky Household Waste

Furniture, carpets, beds sofas

Household Hazardous Waste

Paints, thinners, strippers, cleaning agents, detergents, bleaches, insecticides, glues, and medicines. All household hazardous waste must be in clearly labelled containers.

Plasterboard

Dedicated skip provided

Mattresses

 

DIY Waste

(Homeowner generated)

Bricks, Glass panels, ceramics, tiles

(No Asbestos)
We will not accept…
Non-Household Hazardous waste
Commercial or commercially collected Waste.
Household hazardous waste in unlabeled containers
No food contaminated plastic will be accepted, only clean, dry plastic will be accepted.
Soil
Note 1
Vehicles and Trailers are charged separately.
Note 2
Medium and Large vans with items held on roofs will be refused entry.
Note 3
Vehicles above the sizes specified on the list will be refused entry.
Note 4
Children must always remain in the vehicle.
Vehicles Accepted and Charges From Monday August 1st, 2016, will be as follows:
Vehicles Accepted and Charges From Monday August 1st, 2016, will be as follows:
Vehicles Accepted & Charges
Rate
Car (green waste only)
€9.50
Car & Trailer (green waste only)
€30.00
Car (general waste)
€15.00
Car Van/Estate Car/Jeep (general waste)
€21.00
Car & Trailer (single axle only) general waste
€42.00
Small Van (Citreon Berlingo, VW Caddy, Nissan Courier, Renault Kangoo, Fiat Doblo, Ford Connect, etc.,)
Maximum Volume: 3.4m³ Excluding High Roof Vehicles
€42.00
Medium Van: (Renault Traffic, Toyota HiAce, etc,.)
Maximum Volume 5.8m³ Excluding High Roof Vehicles
€60.00
Large Van: (Ford Transit, V.W. Transporter, Mercedes Sprinter, etc.,)
€84.00