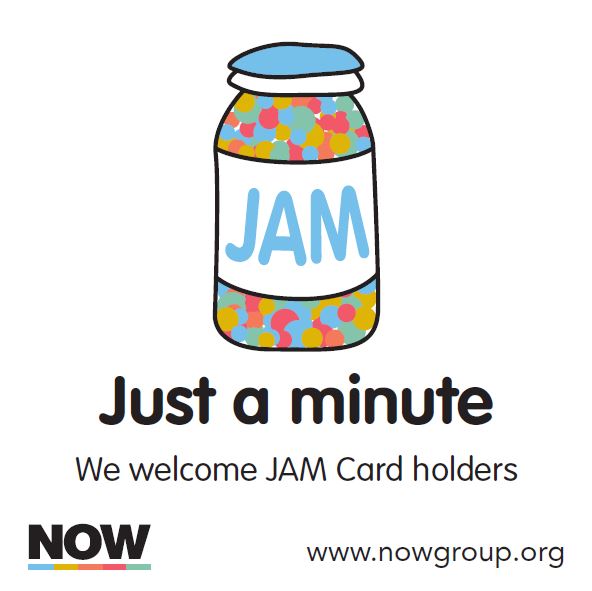 What is JAM Card and who is it for?
JAM Card allows people with a communication barrier tell others they need 'Just A Minute' discreetly and easily.
The JAM Card© was created by NOW Group, a social enterprise that supports people with learning difficulties and autism into jobs with a future and their service users told them that they would like a way to relay to people that they need a little extra time or patience.
Find out more about NOW Group at www.nowgroup.org and JAM Card© at www.jamcard.org
There are three message options to choose from:
Please be patient, I have autism
Please be patient, I have a learning disability / difficulty
Please be patient, I have a condition
For those with a learning difficulty, autism or any condition where there can be a communication barrier, the JAM Card allows users to relay to others that they may need a little extra time in a simple, effective non-verbal manner. The JAM Card is useful when on public transport, in a retail or any other customer facing environment.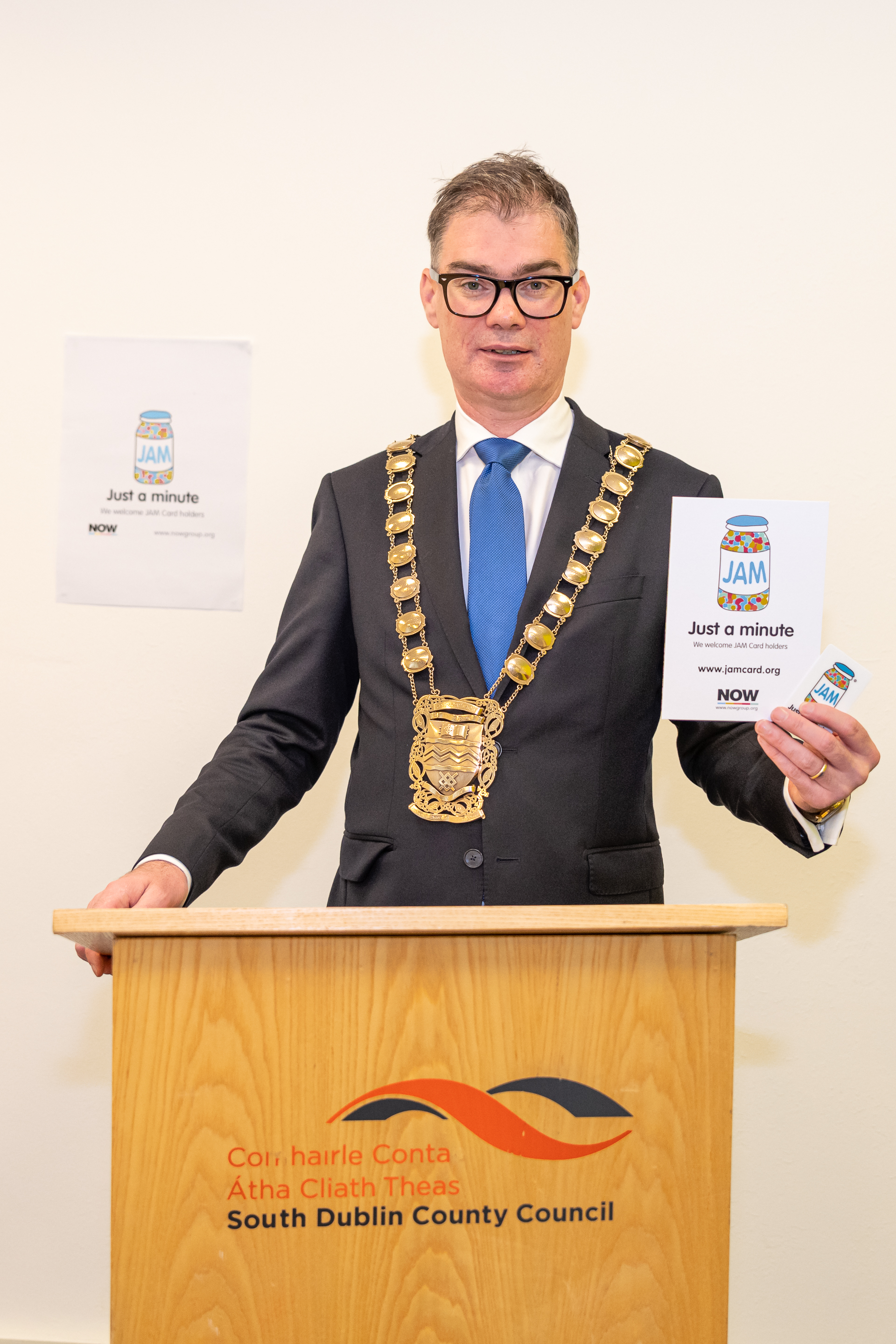 Where can I get one?
There are several different methods to get a JAM Card.
JAM Cards are available for collection from the following South Dublin County Council facilities:
County Hall, Tallaght, Dublin 24, D24 A3XC
Clondalkin Civic Offices, Ninth Lock Road, Clondalkin, Dublin 22
Civic Theatre, Belgard Square East, Tallaght, D24 NWN7
Clondalkin Leisure Centre Nangor Road, Clondalkin, Dublin 22
Tallaght Leisure Centre Fortunestown Way, Tallaght, D24 KX38
South Dublin Libraries:
County Library, Library Square, Tallaght, Dublin D24 A3EX
Clondalkin Library, Monastery Road, Clondalkin, Dublin D22 XPO3
Lucan Library, Lucan Shopping Centre, Newcastle Road, Lucan, Dublin K78 V295
North Clondalkin Library, 1 Liscarne Close, Rowlagh, Dublin, D22 E2Y2
Ballyroan Library, Orchardstown Avenue, Rathfarnham, Dublin D14 VY33
Palmerstown Library Digital Hub, Unit 11 / 12, Palmerstown Shopping Centre. Kennelsfort Road, Palmerstown, Dublin D20 VH60
Library Headquarters, Unit 1, the Square Industrial Complex, Tallaght, Dublin D24 YXW3
Mobile Libraries, Tel: 01 459 7834 or email mobiles@sdublincoco.ie
Castletymon Library, Castletymon Road, Castletymon, D24 EC1X
You can also request one directly from NOW Group by visiting the JAM Card website and filling out the request form.
Or if you would prefer not to use the physical card, there is a JAM Card app available for Android and iOS. The app allows you to choose your message option, leave reviews and find other JAM Card friendly businesses.
You are welcome to contact Selina Bonnie who is the Council's Disability Liaison, Access and Equality Officer if you have any questions regarding South Dublin County Council becoming JAM Card friendly, or any other access and equality related questions.
Selina's contact details are:
Email: sbonnie@sdublincoco.ie
Telephone: 01 414 9000 Ext. 9041
Direct line: 01 414 9041
Fax: 01 414 9203
Mobile / Text: 087 270 8918