South Dublin Libraries Decade of Centenaries Lecture Series 2021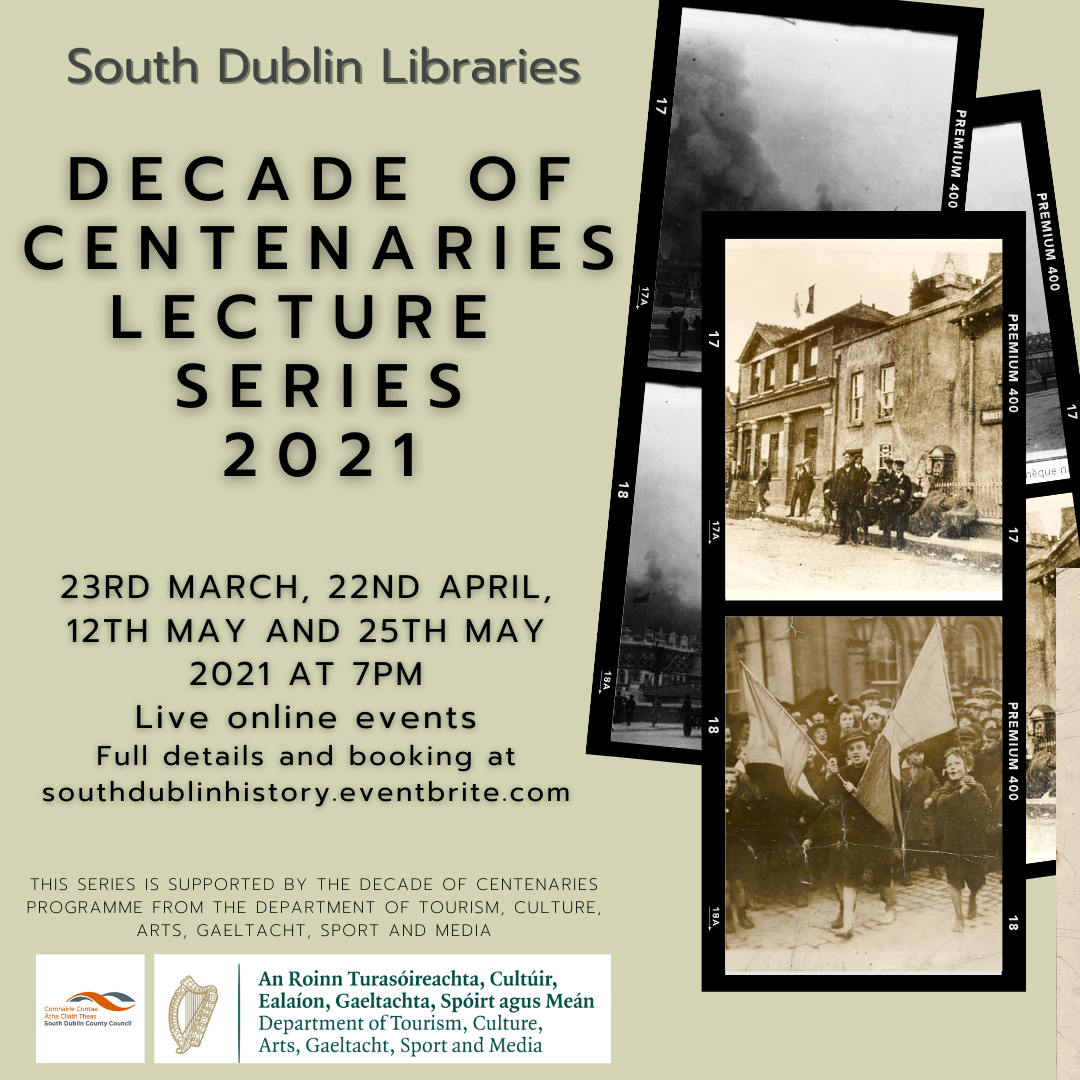 Tuesday 23rd March at 7:00pm
The War of Independence: a South Dublin County Perspective with Cathy Scuffil
Dublin City Council Historian in Residence Cathy Scuffil, will discuss South Dublin County incidences and connections with the War of Independence.
Booking open now at http://ballyroanlibrary.eventbrite.ie
Thursday 22nd April at 7:00pm
We are Black and Tans: Children and the Irish Revolution with Liz Gillis
The story of the War of Independence has been told mainly from the perspective of adults, but children were as much a part of the story. How did the conflict affect them? They were witnesses, in some cases participants and sadly victims. Historian Liz Gillis is the author of numerous books on Ireland's early 20th century revolutionary period.
Full details and booking at http://southdublinhistory.eventbrite.com
Wednesday 12th May at 7:00pm
What did you do in the War of Independence, Grandad?With Myles Dungan
Based on his new book Four Killings (Head of Zeus, London, 2021) which is to be published in May, Myles Dungan extracts three of the aforementioned killings - which took place during the War of Independence - talks about the bloody narrative of his extended family during the revolutionary era and offers suggestions on how to research the activities of your own ancestors in that seminal conflict.
Full details and booking at http://southdublinhistory.eventbrite.com
Tuesday 25th May at 7:00pm
Researching and Writing Your Own Family History with Sinéad McCoole
Following on from Myles Dungan's talk on his family involvement in the revolutionary period, this complementary talk will help you get started in researching and writing your own family history. Sinéad McCoole is an Irish historian, author, broadcaster and scriptwriter, specialising on women in Irish history.
Full details and booking at http://southdublinhistory.eventbrite.com