Decade of Centenaries: South Dublin Legacies 1921/2021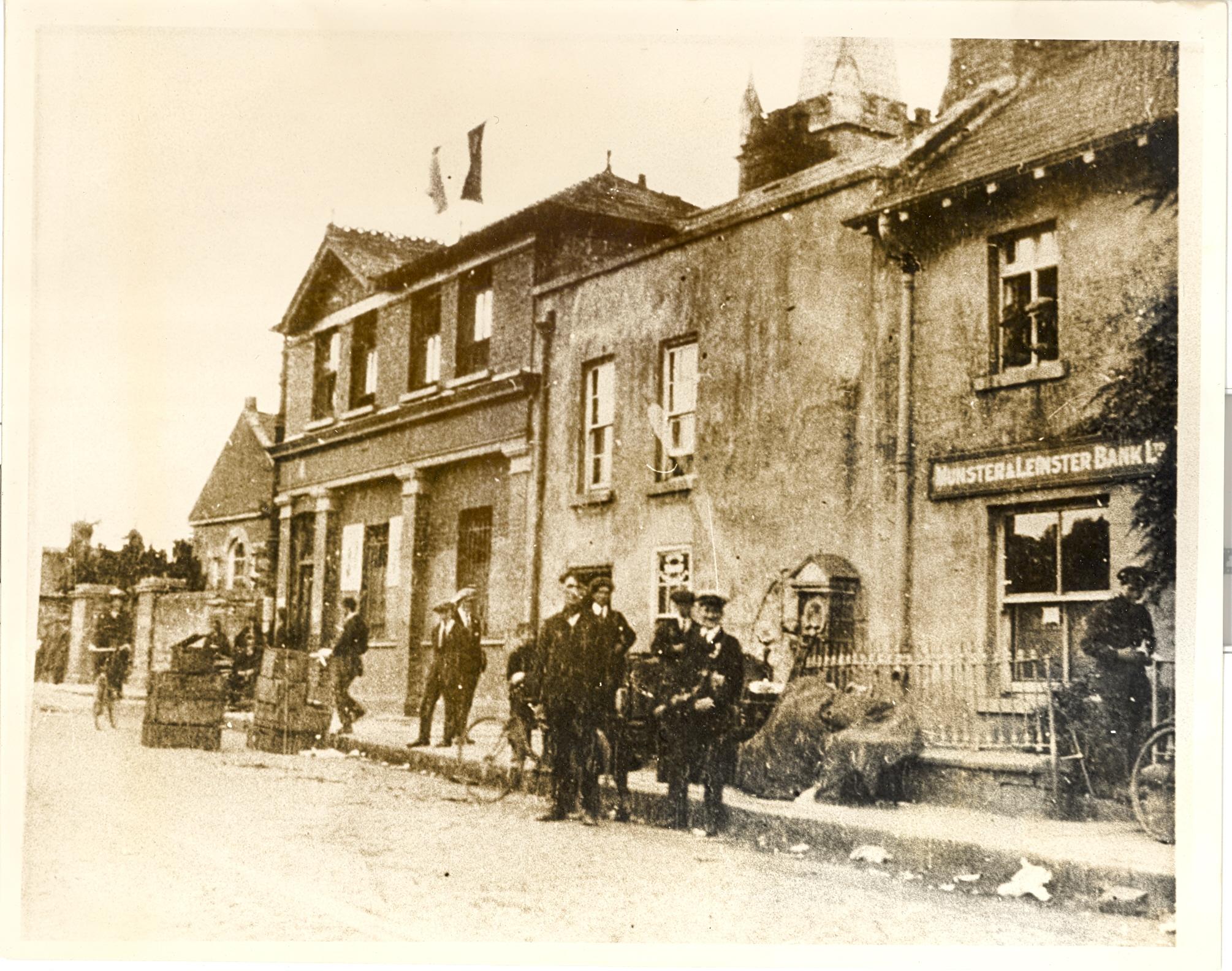 Photo Courtesy of Kilmainham Gaol Museum
South Dublin County Council's Decade of Centenaries Programme 2021 will explore and reflect on the impact of the pivotal events of 100 years ago at both a national and local level. The effect of the War of Independence, the Truce and the signing of the Anglo-Irish Treaty have been felt here, as elsewhere in the country, through the Civil War, and the past 100 years to today.
This year's programme will focus on local connections to the War of Independence, explored through cultural events, historical reflections, lectures and exhibitions. We will also reflect on life at the time in a broader context, including the social conditions experienced by local people during the revolutionary period, the Irish language and cultural life, the role of women during this time, South Dublin County's military heritage, and the experiences of Irishmen who fought in the Great War on their return to their communities in South Dublin.
We look forward to engaging with local historians, artists, community groups, and the community in general, throughout South Dublin County in the commemoration of this formative period of Irish history.
South Dublin County Council's Decade of Centenaries programme is supported by the Department of Tourism, Culture, Arts, Gaeltacht, Sport and Media under the Decade of Centenaries 2012-2023 initiative.
Decade of Centenaries Lecture Series
A series of online (Zoom) talks with some of the leading historians of the period. All talks are open for booking now at http://southdublinhistory.eventbrite.ie
Saturday 4th September at 11am
Dr. David McCullagh From Truce to Treaty: de Valera's 1921
This lecture will explore Éamon de Valera's leadership during the truce period and treaty negotiations, including an examination of his controversial refusal to go to London for negotiations with the British government in late 1921.
Thursday 9th September at 7pm
John Dorney Nationalist revolution in Ireland and Europe 1919-23
Between 1919 and 1923, Ireland experienced upheaval, revolution, partition and civil war. This experience was common to swathe of countries across Europe, as the German, Austro-Hungrian and Russian empires collapsed in the wake of the First World War. This lecture aims to put Ireland's experience in its European context.
Thursday 7th October 2021 at 7pm
Dr. Éimear O'Connor, HRHA Seán Keating: Art, Politics and Building the Irish Nation
Join us for an exploration of the life and works of Rathfarnham-based artist Seán Keating during the period 1915-24 including his iconic depictions of the revolutionary period.
Thursday 14th October 2021 at 7pm
Teresa and Mary Louise O'Donnell Sisters of the Revolutionaries: The Story of Margaret and Mary Brigid Pearse
Join us for an evening of history and music as we learn about the lives of the Pearse sisters and their formidable contribution to Irish educational, political and cultural life in the years following the execution of their brothers. This lecture will be interspersed with harp music and song.
Thursday 21 October at 7pm
Ian Kenneally The War on Newspapers 1921-3
Join historian Ian Kenneally to discover how newspapers influenced and were in turn influenced by the events of 1921-3.
Thursday 28 October at 7pm
Commandant Daniel Ayiotis, The Bureau of Military History: origins and overview of the collection
Join us for a talk by Commandant Daniel Ayiotis, Officer-in-Charge, The Military Archives, for an exploration of the origins and significance of the witness testimonies, providing first-hand accounts of the events of 1916-23, collected by the Bureau of Military History.
Thursday 4th November 2021 at 7pm
John Dorney The Rise and Fall of the Dáil Courts 1921-2During the War of Independence
Across much of the country, the British system of justice was replaced entirely and largely peacefully, for a time, with Irish Republican courts, before they were suppressed by force. Join historian John Dorney to learn more about the Dáil Courts and to discover why, in the post-Truce period, they did not become the basis for an Irish judicial system, removed entirely from its British predecessors.
Thursday 11th November 2021 7pm
Liz Gillis Margaret Pearse and Revolutionary Women
During the period 1921-3, Margaret Pearse, bereaved mother of Padraig and Willie Pearse, committed herself to maintaining what she recognised as the republican legacies of her executed sons. Join this lecture from historian Liz Gillis to learn about the political activities of Margaret and her daughters during the War of Independence and Civil War.
Decade of Centenaries Historian in Residence
Decade of Centenaries Historian in Residence Appointed
Liz Gillis has been appointed as the South Dublin County Council Decade of Centenaries Historian in Residence for 2021.
Liz has a degree in Modern Irish History and specialises in the Irish Revolutionary period. She is a lecturer at Champlain College Dublin and a researcher on The History Show on RTE Radio. She has also worked as a curator on the RTE 1916 Centenary Project, as a tour guide in Kilmainham Gaol, and as historical consultant on projects including the Custom House Visitor Centre and Hyatt Centric Liberties Hotel.  She is the author of several books including Revolution in Dublin: A Photographic History 1916-1923, Women of the Irish Revolution, and May 25: Burning of the Custom House 1921. She was the recipient of the Dublin City Lord Mayor's Award in 2018 for her contribution to history and was co-organiser of the online conference to mark the centenary of the burning of the Custom House in May 1921
Liz is currently working on a programme for autumn/winter 2021. In an online introductory lecture, Revolution in Dublin which will take place on Monday 13th September at 7:00pm, she will give an overview of the history of the War of Independence in Dublin and will outline her plans for the Historian in Residence programme. You can book your free place at this talk at http://southdublinhistory.eventbrite.ie.
Liz believes in telling the national story from the local perspective and is passionate about getting people interested in history. She looks forward to engaging with schools, community groups, local history societies and the general public over the coming months.
If you have any family stories, memories, objects, photographs or ephemera relating to the 1913-1923 period, please get in touch with Liz on commemorations@sdublincoco.ie.
This initiative is supported by the Decade of Centenaries Programme from the Department of Tourism, Culture, Arts, Gaeltacht, Sport and Media. 
Acquisition and Digitisation of Archival Material
The purchase and digitisation of material relating to the revolutionary period to be made freely available online via our digital archive Source. The Revolutionary period collection is available here  http://source.southdublinlibraries.ie/handle/10599/8977
Rathfarnham Revolutionary Trail App
This partnership between the Libraries and Arts Department and the County Promotion Unit will see the development of a Revolutionary trail app detailing the stories connected to Rathfarnham locations relevant to the Decade of Centenaries.
Decade of Centenaries Artist in Residence
Decade of Centenaries Artist in Residence Appointed
Eva Kelly has been appointed as the Decade of Centenaries Historian in Residence for South Dublin County. Eva is a Dublin based artist and illustrator represented by Lemonade Illustration Agency and a member of Illustrators Guild of Ireland. She studied Visual Communications at the National College of Art and Design and has a background in printmaking that informs her work. She has an MA in Visual Arts Education from the National College of Art and Design and MA in Illustration from the University of Hertfordshire. She teaches Illustration and Drawing.
Since launching her illustration career in 2017 she has worked on editorial and publishing commissions with a range of clients for books, newspapers, magazines and hotels. Including creative residencies in New York and Tokyo. She works in watercolour, ink and digital techniques combining expressive line work, composition and colour to create unique hand drawn images.
The idea of illustration as a visual essay is the focus of Eva's work and through the residency she will document aspects of South Dublin life and culture, revealing aspects of and offering a new perspective in a visual form. In particular, her focus will be on the following themes.
· The Foundation of the State (1922)
· The experiences of women from South Dublin County during the revolutionary period and their changing role in society.
· An examination of specific personalities, (including local civic leaders), events and themes from this period of significance to the history and culture of South Dublin County.
Taking inspiration from the above themes she will showcase the unique story of the history and characters of South Dublin County. Her work will be exhibited across the South Dublin Libraries branch network in early 2022. You can follow Eva's work on her website www.evakellyillustration.com and on Instagram @evakellyillustrations
Enquiries about the South Dublin County Decade of Centenaries programme can be directed to Síle Coleman or Emma Edwards at commemorations@sdublincoco.ie
This initiative is supported by the Decade of Centenaries Programme from the Department of Tourism, Culture, Arts, Gaeltacht, Sport and Media.
Decade of Centenaries Community Grants
It is proposed to make grants available to local history societies and community groups for projects and events relative to the Decade of Centenaries, including Irish language projects, street theatre and street art. This page will be updated with details of the grant in September 2021.