Nuacht
Nuacht
HIGH RES WINS AT NATIONAL ENTERPRISE AWARDS
High Res, who are supported by Local Enterprise Office South Dublin, were winners at this year's National Enterprise Awards. The awards, which took place at the Round Room in the Mansion House in Dublin, were in their 23rd year and run annually by the Local Enterprise Offices.
The Ballymount based company took home the Dublin Region Winner and Runner Up award. Selecting High Res as Regional winners, the Judges described being deeply impressed with the expertise of the team and the exceptional successes they have already achieved globally within this highly specialized tech services sector.
High Res Lighting, trading as High Res are an award-winning, highly experienced, full service Creative Production company, specialising in Virtual Production for the global tv and film industry including major international streaming platforms and film studios such as Netflix, Amazon Prime Video and Apple TV+, Sony Pictures and Studiocanal.
Virtual Production uses technology to join the digital world with the physical world in real-time. It enables filmmakers to interact with virtual environments in the same way as they would interact with live action production, allowing them to physically shoot scenes 'in camera', rather than having to add them in in post-production.  The technology used in this process assists in solving creative challenges, such as shooting on location, and is advancing the development of filmed entertainment.
Although based in Dublin, High Res has a wide-reaching client base spanning the globe. Their approach, expertise and experience has allowed High Res compete on a world stage shoulder to shoulder with Virtual Production companies in the US, Canada, Germany and the UK that are much larger than them and often owned by multi-national corporations.
High Res follow in the footsteps of previous South Dublin winners, Artisan Pizza (Regional Winner and Runner Up Award 2021) and Acutrace Limited (National Award Winner in 2017).
Founder and Director of High Res Peter Canning said;
"We're absolutely delighted to win the Dublin Regional award at the National Enterprise Awards ceremony in Dublin's Mansion House last Thursday night. It's a great recognition of both our own teams' hard work and the amazing advice and supports we received by the team at Local Enterprise Office South Dublin. We're looking forward to continuing to grow and make big waves in the international Virtual Production market, all from our offices in Ballymount."
Director of Economic, Enterprise & Tourism Development at South Dublin County Council, Jason Frehill congratulated High Res and added;
They are an inspiration to our entrepreneurs and new business in South Dublin. It is great to have these Awards taking place and shining a spotlight on the very many fantastic businesses that are growing and developing the length and breadth of the country. To see a company who are part of our Local Enterprise Office, go on to achieve on the national and international stage, must give great satisfaction to all involved.''
The overall winner at the National Enterprise Awards was Advanced Cosmetics who are based in Ballina and supported by Local Enterprise Office Mayo.  The "concept to shelf" manufacturing company was set up by cosmetic chemist Noreen Hackett in 2018, before launching to market in 2022.  The business has achieved significant success, securing contracts with some of the biggest brand names in the cosmetics industry.   
Announcing the award winners at the Mansion House, Minister Coveney said;
"The National Enterprise Awards are the highlight of the small business and enterprise calendar.  Year on year the diversity of businesses and the standard of companies that are coming through the process is getting stronger.  We should not be surprised given the innovation and endurance that businesses have shown in the past couple of years.  We have some outstanding winners but the finalists on the whole have been excellent, and this is very much the start of their journey.  We will ensure they continue to get the support they need to grow their businesses as small businesses in Ireland are at the core of every town, village and community and are vital to our economy."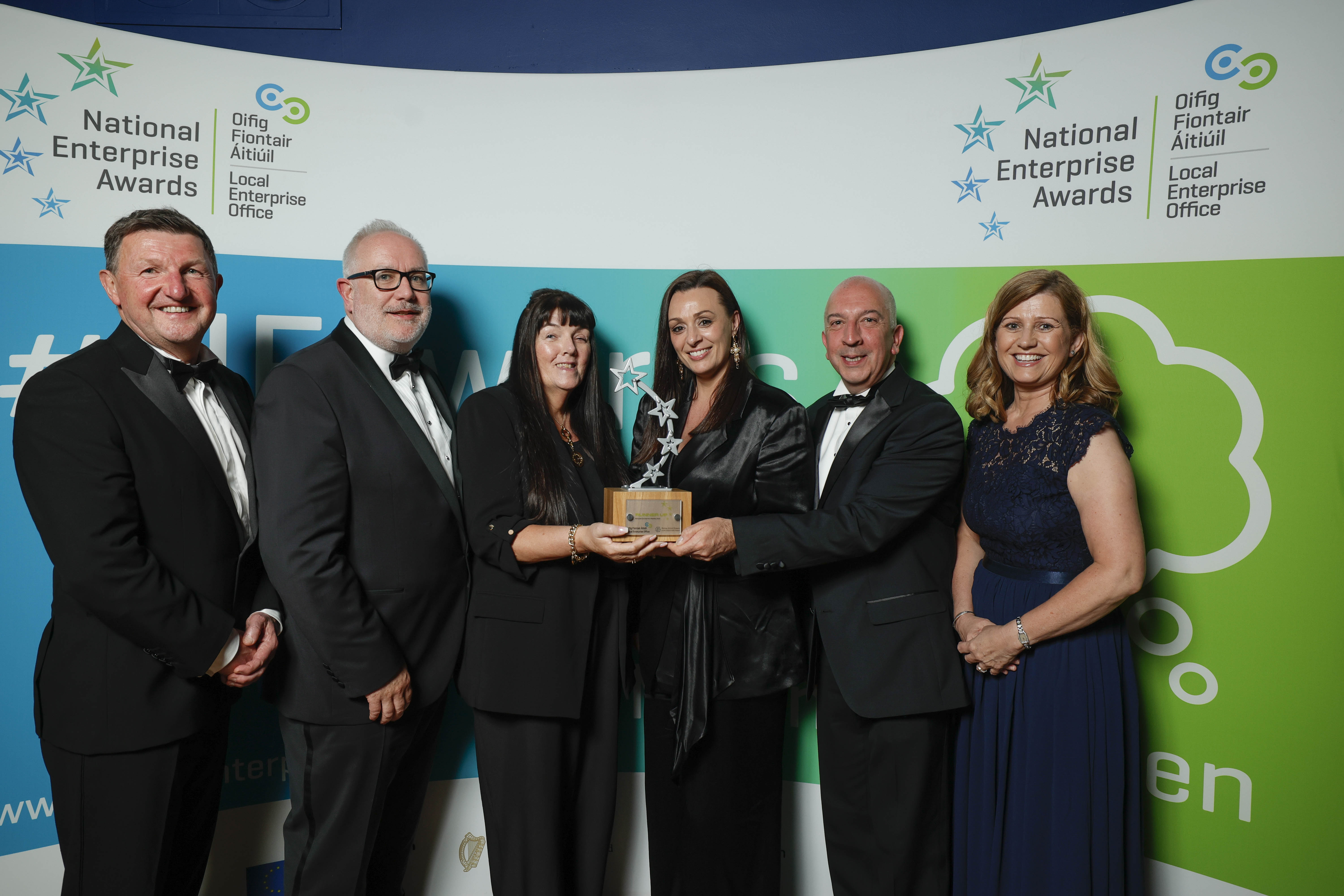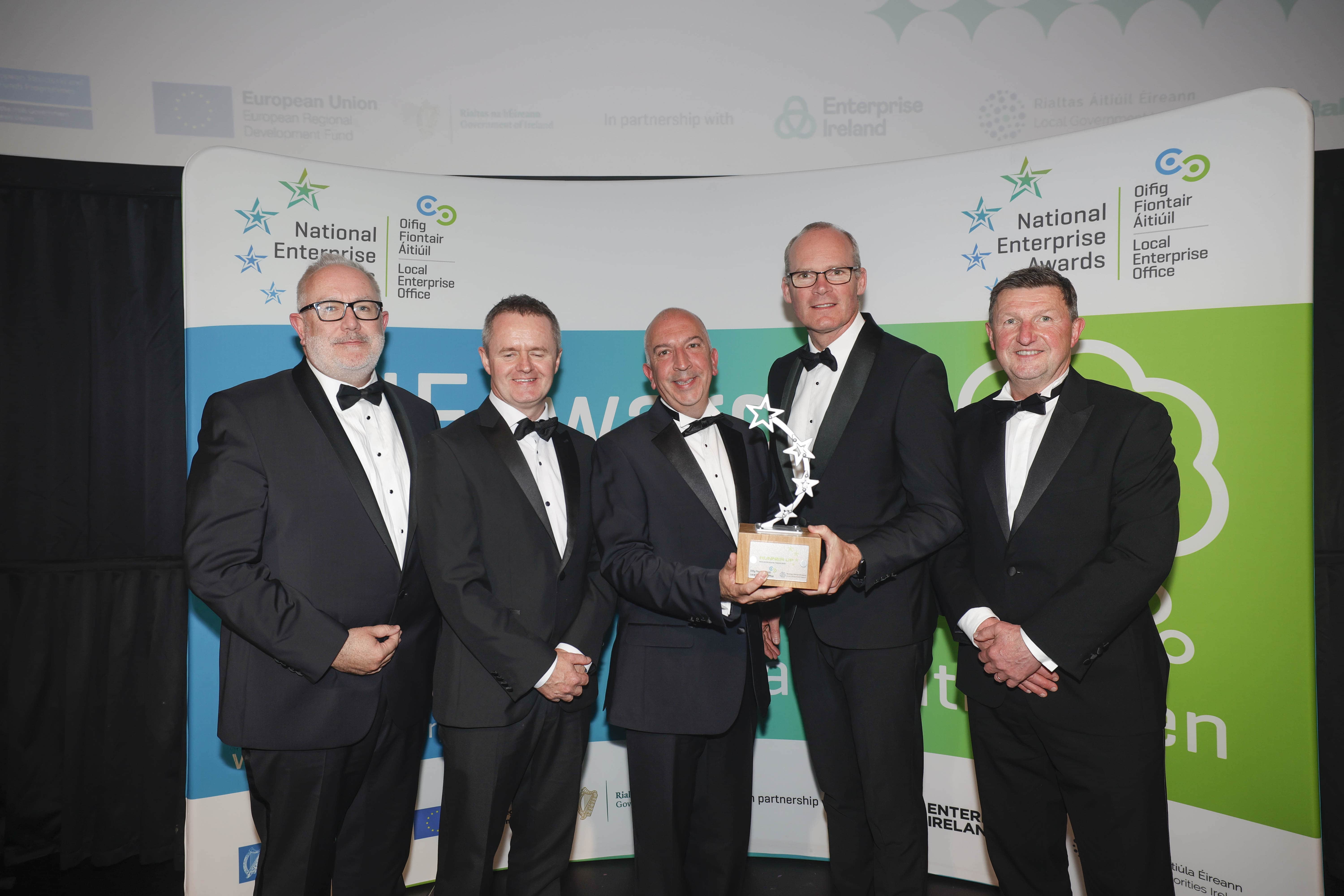 ENDS//
Image one from L to R - Tom Rooney - Head of Local Enterprise Office South Dublin
                                                Peter Fitzgerald    - High Res
                                                Linda Bushe  - High Res
                                                Kerrie – Ann Keogh -  High Res
                                                Peter Canning-  High Res
                                                Sandra Hickey –  LEO Senior Enterprise Development Officer
Image two L to R – Peter Fitzgerald – High Res
                                John Magee – Chair of the Network of LEOs
                                Peter Canning – High Res
                                Simon Coveney – TD Minister for Enterprise, Trade and Employment
                                Tom Rooney -  Head of LEO South Dublin
For more information, please contact:
01 4149215
NOTES TO THE EDITOR:
Several other companies won across a range of categories at the Awards, which were established by the Local Enterprise Offices to celebrate the impact and quality of small businesses across the country.
Innovation Award
The winner of the Innovation Award was the Wicklow Hops Company supported by Local Enterprise Office Wicklow, who use next generation technology in yeast fermentation and the growing of bacteria.
Best Export Award
The winner of the Best Export Award was Wild Irish Seaweed supported by Local Enterprise Office Clare, who are one of the only hand picked wild seaweed companies in Europe and export their premium product across the globe. 
Best Start Up Award
The winner of the Best Start-Up Award was IMVIZAR supported by Local Enterprise Office Dun-Laoghaire-Rathdown, who create walkable storytelling experiences by using augmented reality for tourist attractions, universities and entertainers.
Green / Sustainability Award
The winner of the Green/Sustainability Award was Cream of the Crop supported by Local Enterprise Office Fingal, who are a zero waste company that create treats from surplus produce to help fight food waste.
One To Watch Award
The winner of the One to Watch Award was Watt Footprint supported by Local Enterprise Office Westmeath, who are an energy management company who achieved signifcant energy savings for their clients. 
This year's winners share a €50,000 investment fund and eight regional winners were also announced on the night. 
Other winners are –
Cotter Agritech in the South West Region (backed by LEO Limerick)
Glass Innovations in the Mid East Region (backed by LEO Offaly)
Hyde Irish Whiskey in the South Region (backed by LEO South Cork)
Sully and Juno in the South East Region (backed by LEO Wexford)
Silver Strand Rope Works in the North West Region (backed by LEO Donegal)
Nualach Automation in the North East Region (backed by LEO Cavan)
Lark Bridal in the West Region (backed by LEO Roscommon)
Also honoured on the night were West Cork Distillers who won the Outstanding Achievement Award.  An example of a company who began with their Local Enterprise Office and then accessed support from Enterprise Ireland to grow their business globally.  Established by school friends Ger McCarthy, John O'Connell and Denis McCarthy in 2003 the company now employs over 150 in their hometown of Skibbereen and exports their whiskey to over 70 countries. 
Previous winners of the National Enterprise Awards include Irish Yoghurts (1998), Obelisk (2000), Simtech Aviation (2008), Digiweb (2004) and Design Pro (2013), Terra NutriTech (2018), Pestle & Mortar (2019) and Bevcraft (2021). 
Last year's winners were Aqualicence, supported by Local Enterprise Office Wicklow.  Headed up by former Ireland's Best Young Entrepreneur (IBYE) Finalist Kate Dempsey, Aqualicence has positioned itself at the forefront of planning and project delivery in the offshore renewable energy sector.
The National Enterprise Awards are one of a number of initiatives that the Local Enterprise Offices run, to foster entrepreneurship across the country. Others include Local Enterprise Week, the Student Enterprise Programme, National Women's Enterprise Day and Local Enterprise Showcase. The Local Enterprise Offices in local authorities are funded by the Government of Ireland through Enterprise Ireland. Established in 2014, the Local Enterprise Offices are the essential resource for any entrepreneur looking to start a business or any small business that is looking for support or advice to help them grow. Since their inception eight years ago, the Local Enterprise Offices have helped create over 25,000 jobs across the country. The LEOs work with thousands of client companies across Ireland in a diverse range of sectors offering mentoring, training, expert advice and financial supports to small businesses. For more information see www.LocalEnterprise.ie