On Monday, 12th September the Mayors of South Dublin and Fingal County Councils, the Cathaoirleach of Dún Laoghaire-Rathdown County Council and the Lord Mayor of Dublin City Council officially launched Dublin Climate Action Week in the Round Tower Visitor Centre, Clondalkin.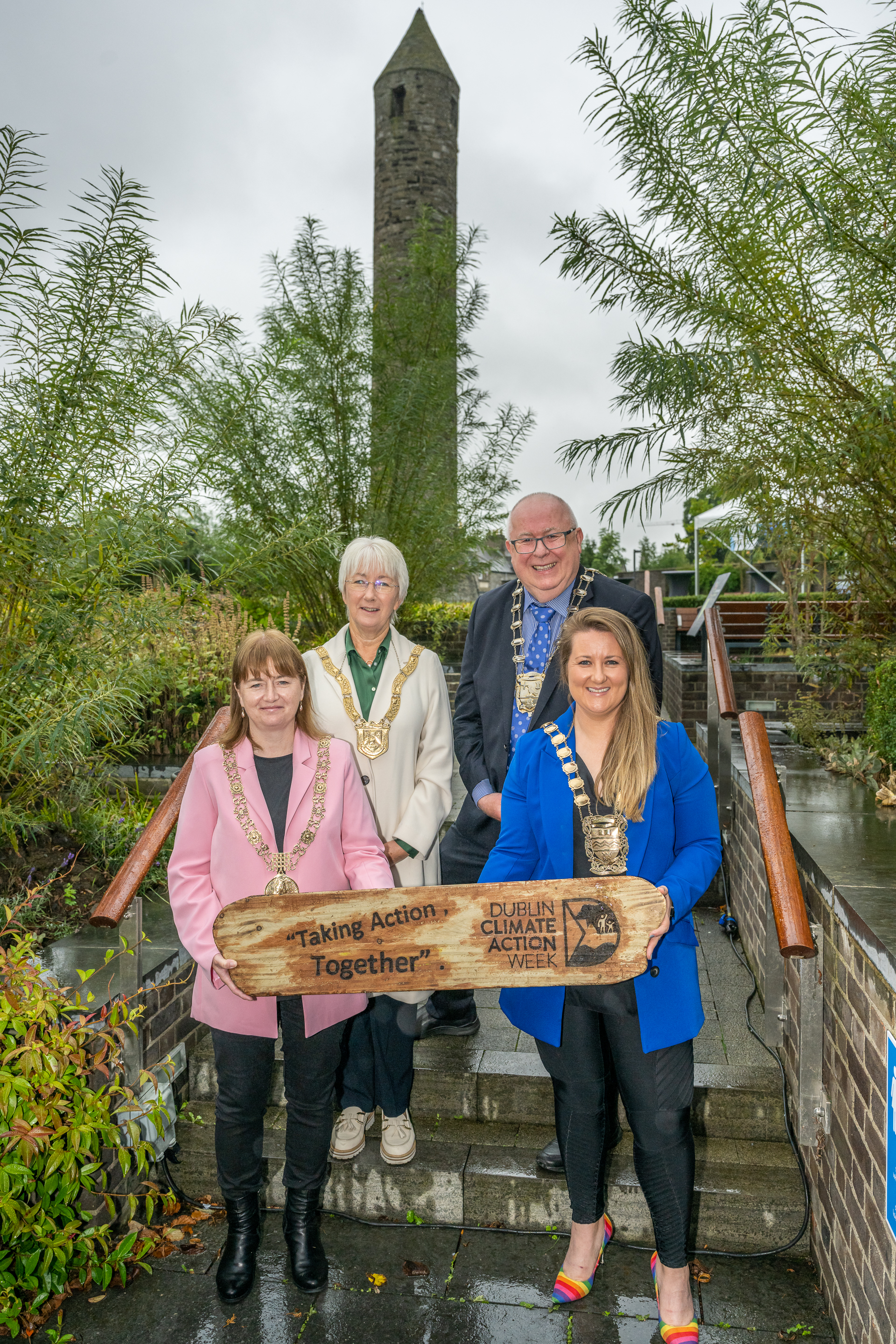 Dublin Climate Action Week takes place from today and will run until this Saturday, 17th September. It offers a range of online and in-person events which aim to inform citizens, increase awareness and highlight the need for urgent climate action by all sectors of society. From climate festivals to film screenings, biodiversity walks to webinars and talks on a range of interesting climate topics, there is something for everyone. Events will highlight how both systemic change and individual action is required to tackle the climate crisis.
More information and registration links for all events can be found at www.dublinclimateactionweek.ie.
Now in its second year, Dublin Climate Action Week is being organised and delivered by the partnership of Dún Laoghaire-Rathdown County Council, South Dublin County Council, Dublin City Council, Fingal County Council, Codema – Dublin's Energy Agency and the Dublin Climate Action Regional Office (CARO).
Through the ongoing implementation of Climate Change Action Plans, the Dublin Local Authorities are collaborating closely to deliver climate action, working to reduce our impact and are committed to leading by example in tackling this global issue.
Well-coordinated regional and local climate action is critical to meeting our national and international climate targets and goals, and through our engagement with members of the public, local authorities are in a unique position to highlight the need for climate action, to communities across Dublin.
The Mayors of the four Dublin Local Authorities have jointly stated: ''Climate Change continues to impact the Dublin Region, but we are working together to reach our climate targets. We've organised Dublin's second Climate Action Week to showcase our ongoing progress to the people of Dublin and elsewhere. Building on the success of last year we've launched another exciting programme of events across a range of themes. You can register for these events on our Dublin Climate Action Week website. We invite you to join us again in September! Each of us has a valuable contribution to make, it counts if we are all Taking Action, Together!"