Mini Woodlands in South Dublin
South Dublin County Council's Public Realm department have begun planting what we refer to as mini woodlands in a number of locations around South Dublin. Mini woodlands are small dense areas of native trees sometimes also referred to as Miyawaki forests or Stepping Stones forests. They are planted primarily for their ecological benefits.
Tree planting is a key measure in addressing climate change. However, trees can take a very long time to grow. To counter this we are using a method developed by Professor of Botany, Akira Miyawaki, involving planting trees at a high density, using a wide variety of native species. Through this we are able to create mature native forests ten times faster than conventional plantations. These forests have an estimated 20 to 100 times more biodiversity and 40 times more carbon absorption ability. This 'crowdforesting' technique helps simulate forests in small spaces and allows us to see them mature within our own lifetime. The Miyawaki model establishes a 30-year-old natural forest within 5-10 years and a 100-year-old natural forest in 15-30 years.
This method grows mature native forests without the use of chemicals or fertilisers, and relies on ground preparation, planting density and species diversity as key elements. High planting density creates undersoil co-operation and above soil competition. By planting native trees very close together, the underground root network establishes quickly. Above ground, the trees stretch up faster as they are competing with each other for light.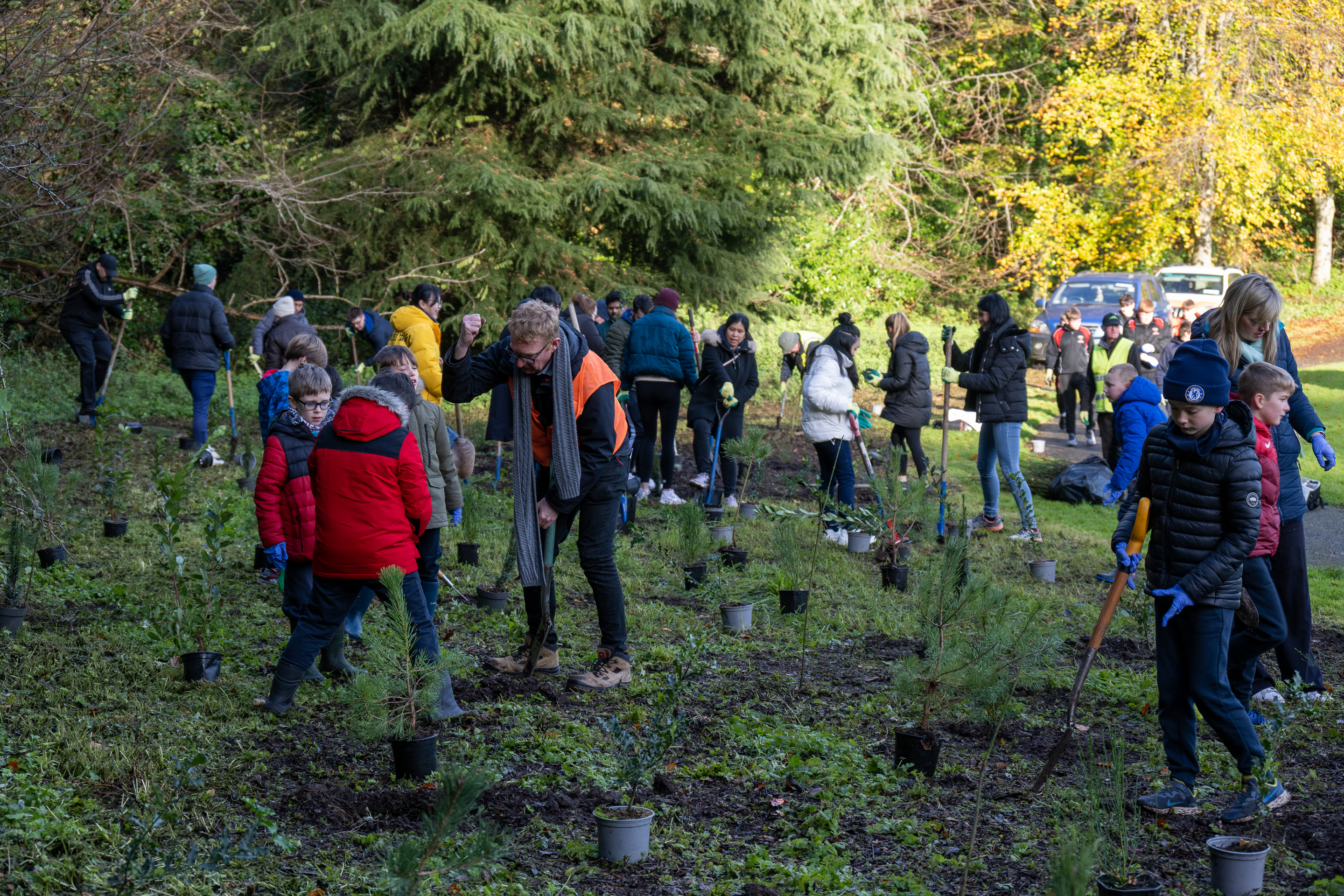 The diverse selection of native trees means the soil is enriched by a "diverse diet" enhancing the health of the root network and spurring the growth of the trees. Our ground preparation and mulching create the right conditions for rapid plant growth. These mini woodlands also require very minimal maintenance once planted.
Some interesting facts:
We plant the trees at a density of around 5 plants per meter squared;
This gives us an eventual canopy layer, tree layer, sub-tree layer, shrub layer and forest floor layer;
Trees grow 10 times faster – about 1 metre per year;
Far higher biodiversity than other woodlands – 20 times higher at least than other woodland types;
Particularly effective in urban areas where they act as refuges for wildlife and allow movement of wildlife through urban areas;
Absorbs 30 times more carbon than grassed areas.
~
On 23rd November 2022, South Dublin Public Realm staff were joined by volunteers from local schools, community volunteers, a corporate group and Mayor of South Dublin Councillor Emma Murphy to plant rapidly growing mini woodlands at Mill Lane in Palmerstown. Approximately 80 volunteers including 21 schoolchildren and their teachers from St Lorcan's Primary School, 20 staff from Ernst & Young, Palmerstown Tidy Towns, Dodder Valley Action and Stewarts Care took part. The planting day followed on from a previous ground preparation day held in June.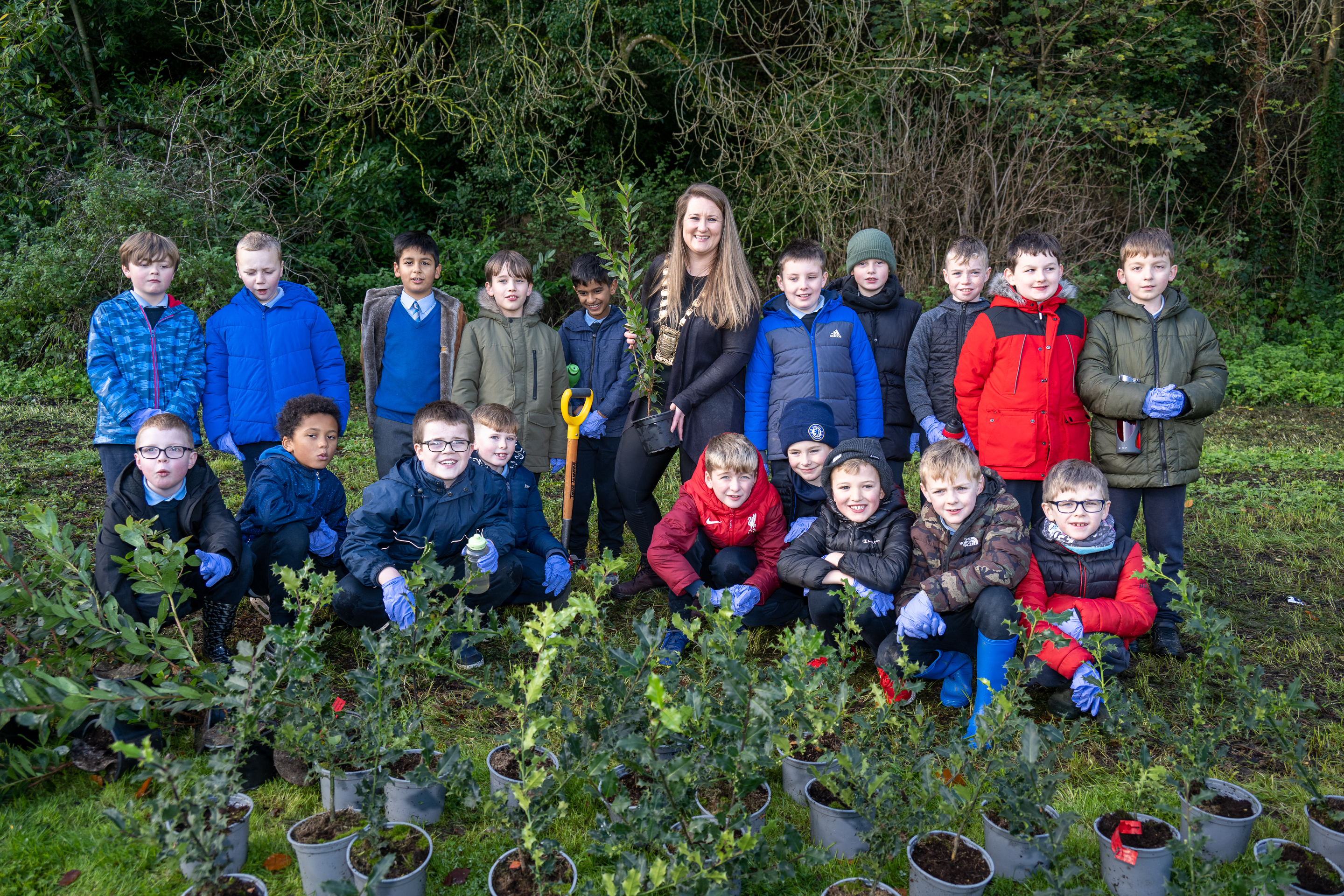 1,200 native trees and shrubs were planted by the volunteers. This will help South Dublin County Council achieve our tree planting targets while allowing community groups to participate in and drive climate action.
The planting day will be followed up in two years' time with planting of ground level native plants to create the floor level of the forest.
A further 1,200 trees were planted in Greenhills Park on Thursday 1st December.