Tallaght Library ComicFest, November 15th-20th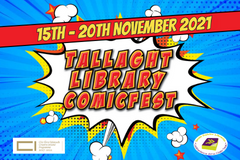 From November 15 to 20, with support from Creative Ireland South Dublin, Tallaght Library are excited to be hosting their first ever Comics Festival called ComicFest. During the week there'll be a range of talks and workshops for young and old delivered by writers and illustrators working in the comics industry. Most of the events are free to book on our Eventbrite page at https://talib.eventbrite.ie. All events are due to take place in Tallaght Library unless otherwise stated but this is subject to change.
You can download our full brochure for the festival here: ComicFest-Brochure_04.11.pdf (size 3.1 MB)
The festival will feature an exhibition in the library of portraits of library users in a special Manga style by artist Shota Kotake. We are looking for a range of people to sit for portraits in Tallaght Library on Saturday November 13. If you would like to sit for a portrait yourself or have a child, parent or grandparent you want to see immortalised as a Manga character then email your interest to jmangan@sdublincoco.ie before Wednesday November 10th.
Below are details of all the scheduled open booking events for the festival.
Monday 15th November at 3.30pm
Design Your Own Superhero with Alan Nolan
Suitable for 7-12 year olds
Join author and illustrator Alan Nolan as he talks about his favourite superheroes and his superhero graphic novel, Destination: Homicide. Learn how to draw a super-powered animal and design your very own superhero!
Monday 15th November at 6.30pm
Learn How to Draw Characters for Comics with Ashwin Chacko
Suitable for 12 years+
A comic cannot come to life without its characters.
One of the big challenges every new comic artist is faced with, is their ability to develop and consistently redraw their characters.
In this workshop we will learn to use simple shapes to develop and maintain a consistent character.
With illustrator, storyteller and motivational speaker Ashwin Chacko.
Tuesday 16th November at 3.30pm
Superhero Stories and Crafts with Library Staff
Suitable for 7-12 year olds
Join us for a superhero stories and craft session with the super staff of Tallaght Library. Learn how to create your very own pop-up superhero - or super pet!
Tuesday 16th November at 6.30pm
How to Start Making Comics with Hugh Madden
Suitable for 12 years+
In this talk for teenagers acclaimed comic book creator Hugh Madden will share his extensive experience and let you in on the process of making your own comics.
Wednesday 17th November at 4pm
Story Writing – The MAD Times with Maeve Devoy
Suitable for 7-12 year olds
This creative writing session will transport the children as journalists on an imaginary journey to MAD City, where there are earthquakes splitting Bluebell River and a blue light has filled the sky!
Focused on mastering the art of fact and fiction, this workshop will delve into the techniques of both worlds, as Maeve details the importance of seeking the truth and using your own voice.
Wednesday 17 November at 6.30pm
An Evening with Declan Shalvey and Stephen Mooney
Suitable for adults and young adults
Declan Shalvey and Stephen Mooney are two of the most prolific and successful Irish comic creators currently working. Both working extensively for major US publishers. Don't miss what should be a fascinating conversation as these two experienced comic professionals discuss their work and the comics industry in general.
Thursday 18 November at 3.30pm
Observational Storytelling with Sarah Bowie
Suitable for 12 years+
Discover how to take ordinary, everyday life and turn it into material for compelling storytelling. Join author/illustrator Sarah Bowie as she guides you through observational exercises and shows you how to use words and images to describe your own inner life and the world around you.
Thursday 18 November at 6.30pm
The Physical Creation of Comics with Tríona Farrell
Suitable for 12 years+
A hands-on workshop in which kids will learn how comics are made and get a chance to create their own comic book page from a professional script. Triona Farrell has worked as a comic book colourist for major comic book publishers such as Dark Horse, Vault, Image and Marvel working on titles such as Stranger Things, Captain Marvel, Hawkeye and many more.
Friday 19 November at 2.30pm
How to Create a Comic Book Storyline with Jaime Lalor
Suitable for 12 years+ *Online Event*
During this workshop you will learn the basics of storytelling and constructing a comic. This will include the essential questions to ask yourself when creating your story, for example 'genre' and 'the hero's journey', and then how to start constructing your story outline and script. You will learn how to use paneling, explore character group dynamics, the infinite possibilities of stylistic expressions you can use to express and enhance your story and more.
Friday 19 November at 3.30pm
Gavin Fullerton: Bags & Bog Bodies
Suitable for adults and young adults
An in depth look at the process of making a graphic novel with illustrator Gavin Fullerton, artist on the graphic novels 'Bags (Or a Story Thereof)' based on a short story by Patrick McHale and 'Bog Bodies', written by Declan Shalvey.
Saturday 20 November at 10am
Manga Portrait Workshop with Shota Kotake
Suitable for 7-12 year olds
At this workshop artist Shota Kotake will teach you how to draw a Manga style portrait. Each child will be given example sheets of Manga style portraits and face parts to reference then, sitting face-to-face, they'll make Manga portraits of each other with help and guidance from Shota. It's lots of fun!
Saturday 20 November at 12pm
Story Writing – Fighting with Words with Maeve Devoy
Suitable for 12 years+
There is no story without conflict. This workshop focuses on the drama - building it and putting it out - and the challenges our characters must face in order to progress. By identifying the reasoning behind events and their consequences, the students will discover what it takes to keep their readers reading, alongside the strength it takes to create change, once they have the heart to fight with their words!
Saturday 20 November at 3pm
Comic Figures in Action with Mico Hassett
Suitable for 12 years+
The Comic Figures in Action workshop will focus on creating figures with movement and action! We will also look at techniques of drawing and shading as well as how to create your own original superhero
Comicfest is supported by the Creative Ireland Programme South Dublin.