There are a number of strands to South Dublin County Council's Decade of Centenaries plans for 2020.
Acquisition and Digitisation of Archive Material
South Dublin Libraries has been fortunate enough to acquire a series of the Saoirse newspaper in pristine condition which will be made freely available online through our digital archive, Source, at http://source.southdublinlibraries.ie. Saoirse was a republican newspaper published between 1910 and 1914. Among its contributors were Padraig Pearse, Bulmer Hobson, Terence McSweeney, Piaras Béaslaí and Roger Casement.
In addition to the newspaper, we have also identified a number of other items from the time which will be acquired to enhance the range of revolutionary period material on our archive. These will benefit the wider community by being made widely available.
Oral Histories
South Dublin Libraries is working with Irish Life and Lore on 1922-2022: A Century of Change, a collection of oral histories which chronicles 100 years of change, marking the centenary of the foundation of the State.  Part two of this three-year project is due to be launched in November 2020.
Decade of Centenaries Lecture Series
South Dublin Libraries is delighted to present this lecture series as part of our Decade of Centenaries programme, supported by the Department of Tourism, Culture, Arts, Gaeltacht, Sport and Media. The lectures will take place online via Zoom every Thursday evening in November at 7:00pm. All events are free of charge and booking is essential at ballyroanlibrary.eventbrite.ie.
Thursday 5th November at 7:00pm
Lorcan Collins
The IRA's Guerrilla Campaign 1919-21
Lorcan Collins founded the 1916 Rebellion Walking Tour in 1996. He is the author of several books on Irish revolutionary history including a biography of James Connolly and his most recent work Ireland's War of Independence; The IRA's Guerrilla Campaign 1919-21. He was co-editor on the 16 Lives Series of biographies on the executed leaders of the Easter Rising. Lorcan also presents the Revolutionary Ireland Podcast.
Booking open now at eventbrite
***
Thursday 12th November at 7:00pm
Dr. Sinéad McCoole
Women & the Campaign for Independence
Dr Sinéad McCoole, from the Commemorations Unit of the Department of Tourism, Arts, Culture, Gaeltacht, Sports and Media will be presenting on women and the campaign of independence, looking at some well known women, and some not so well known, with a special focus on the region of South County Dublin.
Booking opens on 3rd November via eventbrite
***
Thursday 19th November at 7:00pm
Dr. Myles Dungan
The War in the Shadows – A talk on Michael Collins, the Squad and the IRA versus British Intelligence
Dr. Myles Dungan, PhD, is one of Ireland's best-known and most respected broadcasters, hosting current affairs, arts and sports programmes on both radio and television for more than two decades. A Fulbright scholar, educated at UCD and the University of California, Berkeley, he is the author of a multiple books, including Irish Voices From The Great War (1995) and Mr. Parnell's Rottweiler: Censorship & the United Ireland Newspaper (2014), plus works on the Irish in America, the Great War, the Irish Crown jewels and golf. He is the presenter of The History Show on RTÉ Radio 1.
Booking opens on 10th November via eventbrite
***
Thursday 26th November at 7:00pm
Dr. Ida Milne
The other great pandemic: Spanish flu in Ireland 1918-19
Dr Ida Milne is a historian of disease, specialising in the 1918-19 influenza pandemic in Ireland and in infectious diseases of childhood. She is European History Lecturer at Carlow College. Her book, Stacking the Coffins, influenza war and peace in Ireland 1918-19 was published in 2018 and has come to be viewed as a handbook for understanding different societal impacts of the current COVID-19 pandemic. She is a frequent contributor to national and international media on the historic context for the current crisis.
Booking opens on 17th November via eventbrite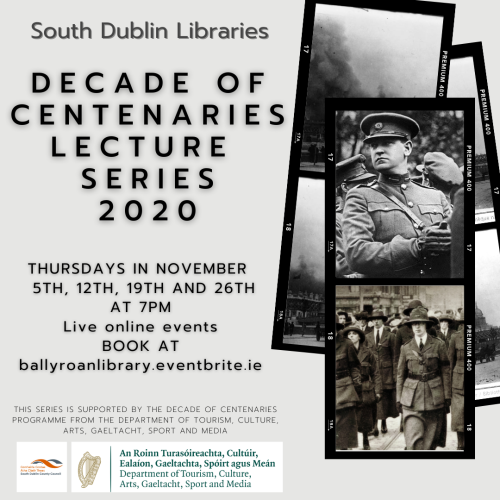 This initiative is supported by the Department of Culture, Heritage and the Gaeltacht under the Decade of Centenaries 2012-2023 initiative.